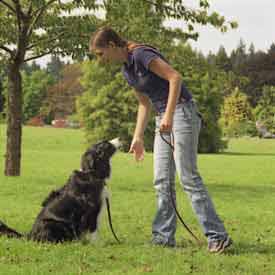 What would life be like if your puppy was well behaved, obedient to all your commands and a pure joy to live with as they grow up?
So knowing how to instruct a pup the right way from day one or training your adult dog out of unwanted behaviors is important to having a happy well mannered best friend and making your life easier.
From 8 weeks old your new puppy is already beginning to learn from you so it's important you know what your doing because your puppy will take what they learn from you now into adulthood. Everything from how to train a puppy to pee outside onto leash training your puppy and recalls over the first few months is vitally important to get right to avoid big doggy mistakes down the line.
The key to Puppy Success Isn't Just Through Training Techniques
We all want our pup to be well mannered, understands simple commands and complies willingly – it's very important.
Too often puppy owners spend most of their time searching for accessories, puppy treats and dog beds and spend far less time thinking about what or how to teach their new puppy.
Next thing you know six months has passed, they've muddled through the potty training and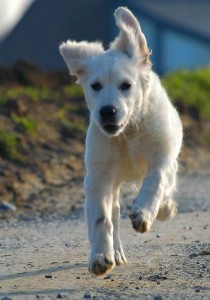 puppy housebreaking only to find their fast growing dog is just way too free willed and all because the dog owner had no real idea that what their dog needed most was – leadership.
If your not confidant with leading your puppy or adult dog or you simply don't know how,  you'll end up with bad behaviors, such as excessive barking, chewing, leash-pulling, or separation anxiety – and that's just no fun at all – because potential disasters lay right around the corner.
But it does not have to be this way if you follow a simple step by step plan of action that will give you the outcome you want – a trained happy pet dog from a confidant leader – You.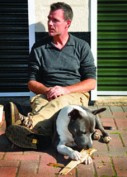 Hi I'm Dan Scott and I've been around dogs since I was born and at the age of 3 I was given my very own black Labrador called Topsy.
Since then much of my life has been devoted to dogs and I've gone on to publish a book on dog nutrition, become a guest speaker at seminars and dog clubs and have published dog related articles worldwide.
And in 2014 I opened the doors to the world's first video membership program for dog owners who wish to switch their dog's processed commercial diet to a fresh food diet for dramatically improved health and wellbeing. But that's another story because right now it's about you and your new best friend fully understanding each other for smooth stress free lifelong companionship by using the right K9 training techniques from day one.
Why Training Your Puppy is So Important to Get Right?
Over the years I've learnt that dogs must be trained for both the dog and owners sake but that dog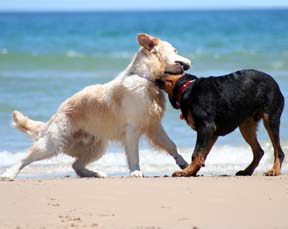 obedience training had to follow certain simple step by step principals to minimize fuss and mistakes and to achieve the objective quickly – a well trained and obedient dog.
However I've also learnt that there are just too many ways to get it wrong when you listen to bad dog training advice and the consequences can be catastrophic.
Today – Home Dog Training Has Moved on
Dog and puppy training has moved on in recent years and today the dog trainer you learn from MUST have knowledge of dog behavior so they can help you understand your dog better to quickly resolve past dog training mistakes or change present patterns of behavior that are upsetting your dog ownership experience.
What is The Best Puppy and Dog Training Method?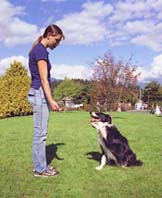 If like me you want a well trained dog or puppy but with minimum effort for maximum results, it's important to get the right dog training guide for your personal needs.
So often you want to learn how to train your puppy on the basics but end up following a dog training book or local dog trainer who's techniques you find difficult to follow and because you don't 'get it' your puppy or adult dog doesn't get it either and you simply become confused and give up.
So I'm here to help you choose the right dog training program for your personal needs. But before we talk about the best methods of training your dog please look at the four points below so your clear about your needs.
What to Know Before You Begin a Puppy Training Schedule
Let me give you a few pointers about how to house train a puppy fast or solve current bad dog behaviors. This will help you put into perspective how your dog's needs are best served for the fastest and best outcome for a trouble free life together.
Are you training a puppy or older dog (6 months or above)?
What does your puppy or dog need? – puppy potty training with perhaps a puppy crate training schedule, maybe some corrective dog behavior training or just some dog obedience training basics to get your new shelter dog up to speed.
Get it right first time by keeping things simple – start with basic training and you'll find this covers most all your dog training needs for a trouble free dog owning experience. Once your dog has command of the basics the rest tend to fall into place making your life with your dog that much more fun and enjoyable.
Stick to positive reinforcement dog training as the best training method that allows your dog to want to do what you ask of them without you being manipulative, coercive or confrontational. You can easily use bully training tactics to get your dog to do what you want but it's not fair on your dog and will only serve to undermine their sensitive doggy nature causing future problems you certainly won't want to have to deal with.
The four points above are important to help you choose the right canine training for your needs with maximum results for your investment in the training and your time spent helping your dog understand you better for an improved relationship.
Now that you have answered those questions above and are clear in your mind what you want to achieve, let's move onto the programs that I feel best serve you and your dog. All the programs I discuss are internet based programs with audio, video, photos and text.
Why Online Dog Training and Not Local Dog Training Classes?
This is based on the fact that you don't need to go to local dog training classes when there are now great online video dog training resources that help you get the job done quickly and efficiently in your own time and doing a little each day when it's convenient for you.
Local dog training classes lump a bunch of dog owners together which causes the following:
Dogs paying more attention to other dogs not you
The trainer using outdated training methods
Limited class time
Group training, no one-on-one
No regard to your dogs behavior and what's that really telling you – important!
The next day you've forgotten the training and what to do
Inconvenient time schedule
Too long a session for your puppy to focus on, gets distracted and you get frustrated
Read on and I'll explain why online video dog training classes are better than local…
Why Learn Dog Training With Video Dog Training?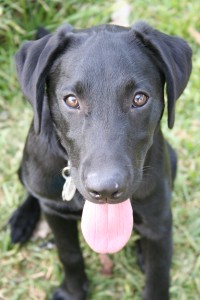 Video is the perfect way to learn how to train your dog because there's no shortage of dog and puppy training books and ebooks out there, but every single one of them have a fatal flaw that virtually guarantees you'll fail even before you start.
You can't learn how to train your dog by reading about it – you have to see and hear it being done for real. With video you're able to watch and listen to the dog trainer solving the exact problem you're having with your dog, with another real dog and its owner just like you.
There's ALWAYS a specific reason why your dog acts the way it does and by watching the action on video you not only understand the reason you also see how to fix it fast.
This means you'll see:
The precise body language being used (so you get it right fast and your dog learns quickly)
How to change the tone of your voice (something a book can't give you)
How the dogs change their behavior almost as soon as you start (speeding up the process)
Video is the fastest way to learn (which means you can literally watch on your mobile as you train your dog – something local classes can't provide)
What Makes a Puppy Training Program Work for You?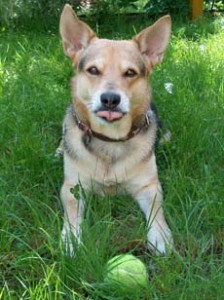 I have found over the years that dog owners learn best with bite sized chunks of information applied to one training exercise at a time before moving onto the next. This helps you train your young dog very well in each behavior and one builds upon the other until your dog or puppy becomes a well adjusted, well trained and happy dog and you feel great!
Before you move on, here's an example of potty training puppies to watch now.
Besides the excellent tips for puppy potty training I'm showing it as an example of why it's important to understand your dogs behavior so you can begin to easily read your young dog's actions quickly.
Watch the video below for how to potty train your puppy:

How to Train a Puppy From Day One – Two Great Puppy Trainers
With this in mind I have chosen the following two dog training programs that will help you get your dog trained fast, efficiently, positively and in nice bite sized chunks step by step.
A Dog Trainer Must Be A Dog Behaviorist Expert
Now these dog trainers are also professional dog behavior experts and have committed their life to understanding dogs and how to get them to love being trained. They are right up there with Cesar Milan as you'll see in a moment – world class quality dog trainers with TV credits, rich testimonials and the one thing you will definitely want – dog training lessons on video.
However as I've come to discover recently in a TV interview, many dog owners are put off by some of the coercive behavior tactics in Cesars trainings as too dominant even unethical, physical and bullying in some cases.
I've discovered there's a better more gentle training technique that's hugely succesful for the following reasons:
Only uses gentle techniques proven to work
Makes your dog eager to want to learn
Deepens the bond with your dog
Does not create suppressed emotional baggage because your dominating them and stressing them deep inside with your training style – you now have a more relaxed stress free dog and no fear of futute problems locked inside your dog
It's effective and gentle for sensitive dogs
It's also effective for aggressive dog training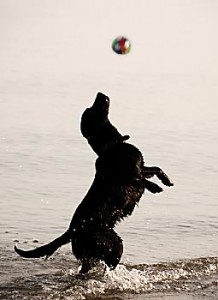 With this improved up to the minute training method I have personally researched, used and evaluated two such dog trainers. One of the two will suit your needs as I'm sure you'll agree.
I've joined both the programs and one of the trainings I have personally used to stop my dog from jumping on guests and strangers – kids mostly at the local park – but thankfully problem now solved.
Short Story – My Fault and Why I Needed a More Savvy K9
I had trained my fast growing young dog in most of the basics by six months old, at least the dog behaviors I wanted him to display. However I enjoyed him jumping up on me when I returned home at the end of the working day, it was our meet and greet happy time that we both reveled in.
Only problem was and here's an example: Down at the local park I'd play a game of throw and fetch that I'd taught my dog but on this particular occasion as he was chasing after the ball he spotted a young girl – he loves kids energy – and headed straight for her. Next thing you know he's jumped up, paws on shoulders and pushed her to the ground and now he's excitedly licking her face as she's rolling about screaming.
The girls crying, her mums running towards the scene in terror thinking he's attacking her, I'm running in to control the situation, I'm pulling my dog off, mums trying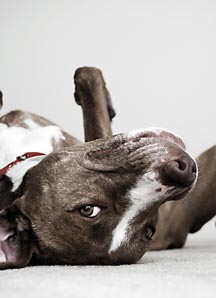 to settle her daughter, I'm profusely apologizing, mums just glad there's no harm done, I'm embarrassed… you get the picture. And this wasn't the first time either so something had to be done before it got out of hand.
Now home time is a much calmer affair having followed the training in the online dog trainer. So now it's calm dog first, permission second and fun third.
I'd learnt that by allowing my dog to do as he pleased led to uncontrolled behavior and problems. And that being prepared to re-train myself so I could correct my dogs behavior took away the stress and fear around him being with other people and dogs at the park or when visitors arrived.
I Review Two of the Best Online Dog Training Programs in the World Today
Ok down to business, these two video dog training programs have everything you'll need from how to crate train a puppy through to training aggressive dogs. One is by Dove Cresswell, the other by Dogy Dan.
It may not matter to you but according to my wife sometimes a woman wants to learn from another woman. I can appreciate that if you're a dog mum you may prefer the language, the style or you just learn better in a female environment. And while it may not matter to you at all it's nice to have the choice.
Let's Begin With the First Program – Ladies First.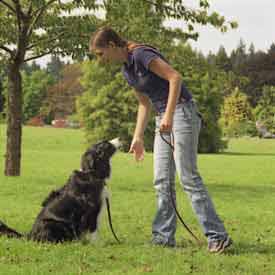 Dove Cresswell is a certified professional dog trainer and behaviorist from West Hollywood in Los Angeles. This unique lady is dog trainer to the Hollywood stars with film and TV credits such as Marley and Me: The Puppy Years, Marmaduke and the Once Upon a Time TV series to name a few.
Dove is a multi-talented dog trainer with an amazing track record of success hence the Hollywood credentials and a record of over 5,000 dogs trained to date.
Dove's training is video based and her positive reinforcement method is made to be fun and easy using her special "game method" that deepens the bond with your dog.
Dove covers all the essentials you'll ever need and then you can go on to more advanced lessons including clicker dog training and some great dog training tricks that will amaze your house guests and dog parents down at the dog park.
Dove's Dog Training Online – The Breakdown:
Covers all the basic training you need to get your dog up to speed fast and effectively using a positive, fun, easy approach that's easily understood.
Covers important decisions about leashes, harnesses and collars
How to train large dogs and toy dogs and what to do differently
Covers an entire program just about puppy training including how to potty train a puppy, crate training puppies, house training a puppy, how to train a puppy not to bite and how to leash train a puppy
Dove also covers problem behavior training, everything from how to stop your dog barking on demand to how to stop a dog digging and stop dog jumping up
There's advanced lessons on clicker training a dog, special dog tricks you can teach your dog and advanced heel work, even how to jog with your dog
A full 8 week 100% no questions asked money back guarantee if you're not delighted with the program
In all there are 50 video lessons to choose from using a proven method that you can watch from home or on your smart phone in the field – you can check them out first too
If Dove is teaching Hollywood stars to train their dogs, working in the movies and TV, has trained 5000 dogs successfully and is offering a complete refund if you're not totally satisfied with the results, she must have a great talent for teaching dog training as I think you'll agree.
Dove's all new video program layout has all you need to train your puppy or adult dog the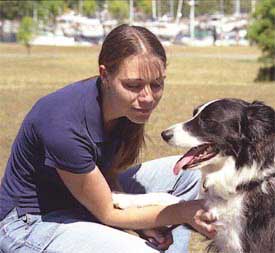 core dog obedience training essentials. She'll help you with your dog problem behaviors, there's a complete puppy program and the advanced lessons and tricks section.
Dove's dog training approach is positive, calming and works very well. Go for Dove's dog training program if you prefer a woman's approach to dog training, how to train puppy tricks or love the idea of being trained by a K9 trainer to the Hollywood stars.
Ok Onto My Second Choice for Training New Puppies and Dogs.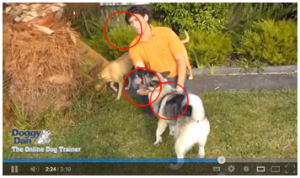 Doggy Dan is a fast rising star in the dog training world and for good reason.
Dan's another certified professional, also SPCA endorsed and again using simple, gentle techniques that get fast results.
The entire program is live on video from this charismatic dog trainer who like me is a published author and who regularly appears on TV as an educator and media personality. Dan also speaks at dog events helping to educate the dog owners to get the most from their best friend.
Dan's online dog training video program is pretty special with an amazing 250 videos covering everything from aggressive dog behavior training to how to toilet train a puppy.
The great thing about this program is you get to learn the all important body language your dog displays to you – what they are trying to tell you – and know just what it means so you can respond for fast effective results.
If I had to compare Dan, I'd say he's the new Cesar Milan dog whisperer and if you check out his page you'll soon see what I mean. He's a natural at canine training, intuitively understands dogs and is very careful to show you all about what the dog is doing and saying, the body language they use and how to use your voice tonality as part of fast dog training success.
Here's an Overview of What You Get With Dan's Dog and Puppy Video Program
How to be in control of your dog and be a benevolent leader so they will joyfully follow your commands instantly (if you can't control your dog, your dogs controlling you)
How to think like your dog so you can increase your bond and your dogs wellbeing (often what your telling your dog is taken the opposite way which leads to frustration)
Dan's gentle methods are great for problem dogs (and for an aggressive dog this can mean the difference between life and death!)
Dan's a dog behavioral specialist and with over 250 videos you'll see exactly the problem behavior in your dog you want fixed fast
Because all lessons are on video you can review them at your leisure in the evening and then pick the ones you need to display on your smart phone "in the field" as you train.
You can try the full course with every video for a FREE trial period, watch the videos, see how they work out and if it's not for you – no problem, you can quit before you buy.
NO aggressive training techniques here – this only leads to future behavior problems
Plenty of current customer feedback via Facebook (several of which I noticed referred to behaviors the dog owners had not found anywhere else until Dan's program highlighted the problem and how to fix it)
You'll see your dog with new eyes (what I love is when dog owners get that aha moment as they finally get what their dog is trying to tell them and you'll get that too)
I've used this course myself to stop my dog jumping up on just about everybody – problem now solved.
As a free bonus, the program comes with membership to Dan's dog forum where you can get expert help on all aspects of owning a dog including membership freebies – There are virtually no top online dog training video programs where you can ask the expert your personal questions and get fast replies in person.
The course is divided into sections;
Section 1 Becoming the pack leader
Section 2 Training your puppy including a NEW case study where you meet Moses the puppy cross and get walked through a diary of training your puppy from 8 weeks up. Click here to see this cute 8 week old puppy on video.
Section 3 Solving problem behaviors
Section 4 Dog training – understanding your best friend
The program also comes with some excellent free bonuses:
Doggy Dan's Dog Training Audio Library on how to understand your dog part 1
Doggy Dan's Puppy Talk Series 1 – "7 secrets to puppy training"
Doggy Dan's Dog Talk Series 1 – "9 Advanced Vocal Commands"
Membership to Doggy Dan's Exclusive online forum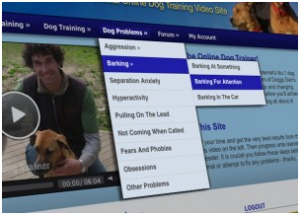 Personally I was sold on the program and used it to correct a problem with my dog that I'd already spent money with a personal dog trainer only to find out his methods were out of date, expensive and a waste of time.
I think you'll be pleasantly surprised by this easy gentle approach to dog training and best of all it works because I've personally used it with success.
Wrap Up on Both Programs:
Dove Cresswell's Dog Training Online –
Certified professional dog trainer
Brings a bit of Hollywood glam to dog training
Great puppy training program
Teaches some great dog tricks (imagine your dog waving to you!)
Covers all the dog training essentials
Covers problem behaviors
Advanced lessons and tricks
Fun and easy "game method" that deepens you and your dogs bond
This proven dog training practice is video based (not your boring e-book) so you can train at home or outside using your smart phone or ipad.
Doggy Dan's The Online Dog Trainer –
Fast results from massive library of 250 videos (you'll find exactly what you need from an amazing video resource library)
Professional dog behaviorist – vital to understand what your dog is telling you so you can communicate back effectively
Covers how to raise a puppy including real life case study from 8 weeks to 4 months (see my video review)
Covers all breeds of dog from training a Husky puppy to how to train a pitbull puppy or adult dog correction
Covers how to resolve all kinds of dog behavioral issues
Covers how to really lead your dog following 5 crucial secrets to being pack leader
The video program uses only kind gentle methods that get fast results
Doggy Dan is SPCA approved and endorsed
Covers how to understand what makes your dog tick you so can communicate more effectively
It's like having a video reference library of dog problems and behaviors that you'll quickly access to understand what's happening and how to fix things fast
Excellent active members forum – ask Dan questions directly
Out of the 20+ dog training programs I've researched for myself and my customers, both Dove and Dan are the real deal and come whole heartedly recommended.
Which Program is Best For You?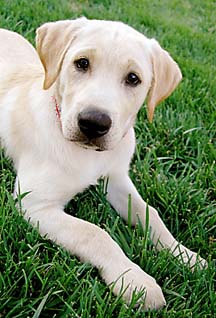 If I had to call it I'd give the nod to Dan because he covers so many dog behaviors and the biggest problem you may well be facing right now with your dog is correcting a behavior issue. Also his puppy video diary training is a slice of reality TV that I found absorbing and easy to follow.
Plus – and this is BIG – Dan has a members forum where you can get replies from Dan himeslf with your specific needs and if you're like me you'll use this resource for so much more than you could think of right now.
What I like about Dan's videos is that thay are detailed, descriptive, easy to follow and best of all motivate you to get out and train your new puppy or older dog from day one – his style is relaxed, confident and I find very motivating.
The Advantages of Dan's Training Program:
Huge video library of over 250 videos – Everything you need is covered
Live action case study videos – real life trainings highlight problems you want fixed
Puppy video diary from 8 weeks to 4 months – you just follow along with your puppy
Members forum – live ongoing help from Dan
The FREE puppy and dog talk series bonuses deepen the bond with your dog
It's FREE to join for a trial period – HINT – sign up, type in your biggest dog problem you want solved or dive straight into section two for a complete puppy training plan and see for yourself it's effectiveness
4/5 Stars go to Dove Cresswell 's Program

5/5 Stars to Dan The Online Dog Trainer's Program
What Are the Negatives on These Two Trainings?
I've honestly thought of the downsides to both these dog trainers but find it hard to come up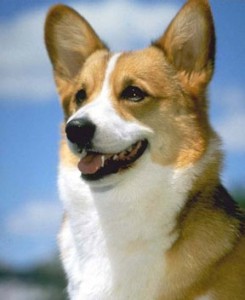 with many.
Dove's program has much less material, no diary type puppy progress videos – which I found helpful and highly absorbing to watch – and no members forum which could be a deal breaker.
Dove's program does teach dog tricks though, which maybe you want. Otherwise everything I'd want to cover basic dog training needs and I'm a professional dog man they cover and in Dan's case and then some.
However…
Dan easily edges it for me with his huge video library, live action case study videos and member's forum for ongoing personal help and that's why I joined his program which has resolved one big dog behavior issue for me already, so I guess that makes me a fan.
Dove's video program is a one time fee of $37 for everything and right now Dan's video membership program is offering a FREE trial period. And both programs come with a 100% no questions asked money back gurantee for 8 weeks.
Either way you now have the help you need to enrich the relationship with your best friend and with video there's never been a better time to take advantage of two excellent professional dog trainers in your own home for pennies.
Free Puppy Training Tip

: Write Down Your Puppy Training Wish List, or Dog Behavioral Problem You Want Solved Now

And like I said above, if you need answers to house training a puppy for example, first write it down whatever the issue you want solved now, and then click through to Dan's page below.

Sign up for free and once inside Dan's free trial period you can focus on the list you wrote down and find the answers straight away and be on your way to raising the perfect puppy to a happy well mannered dog and making your life easier.

Then if your happy with the results stay as a member, if not, leave and it's not cost you a penny.

I'm Dan Scott and I hope your time here has been valuable and I've helped you with how to train a puppy and make the right choice by getting a high quality results driven dog and puppy training program.

Click Here Now for Dove Cresswell's Video Program
Click Here Now for Doggy Dan's Video Program