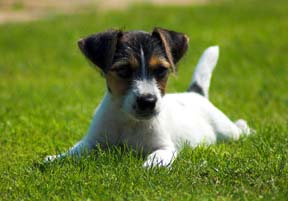 How to train a puppy involves a few key components and knowing how to crate train a puppy is key to setting up a fixed place of rest especially overnight. And crate training puppies overnight means they have a safe home to go to which gives your puppy the security they need to adjust to living in the human environment – it's their own bedroom space.
TIP: If you have not bought your crate yet, get a size that will match your dogs adult size and block part of the crate off with a pillow or box so that the puppy only has access to the amount of room that they really need saving you money.
What Else Do You Need to Crate Train Puppies?
Besides a proper sized crate, you will also need a blanket or pillow for them to sleep on and include a toy of some kind in their crate to make both you and the dog feel better. Don't put  water or food in the crate. As much as you want your puppy to have the chance to drink or eat during the night, the chances that they will spill food and water or start playing with them in the night is too great.
If your puppy really needs water or food, they will let you know and you can let them out. And this relates to a crucial part of puppy training as you will see in the video below.
Should You Start Crate Training Puppies at Night?
Dogs are not as nocturnal as cats, but they will run around during the night and as puppies don't always know right from wrong, they can end getting themselves in trouble. Most dog owners should have a crate that is big enough for them to sleep in that's placed either in the bedroom or the kitchen so that the puppy can sleep and know that as you go to bed, she should to go bed.
When you are crate training puppies at night, providing solid sleep cycles is the primary intention.
I won't go into how to train a puppy to the crate and instead let Doggy Dan take you through in detail just what to do with your puppy.